Something About Company
Huddle is a startup that offers a new meeting and an online collaboration tool. Huddle allows companies to meet in their virtual office rooms, talk to each other, move around as if they share a common space in reality. Team members can move from room to another to check in on projects and have unexpected encounters and chats they usually have in the office.

Product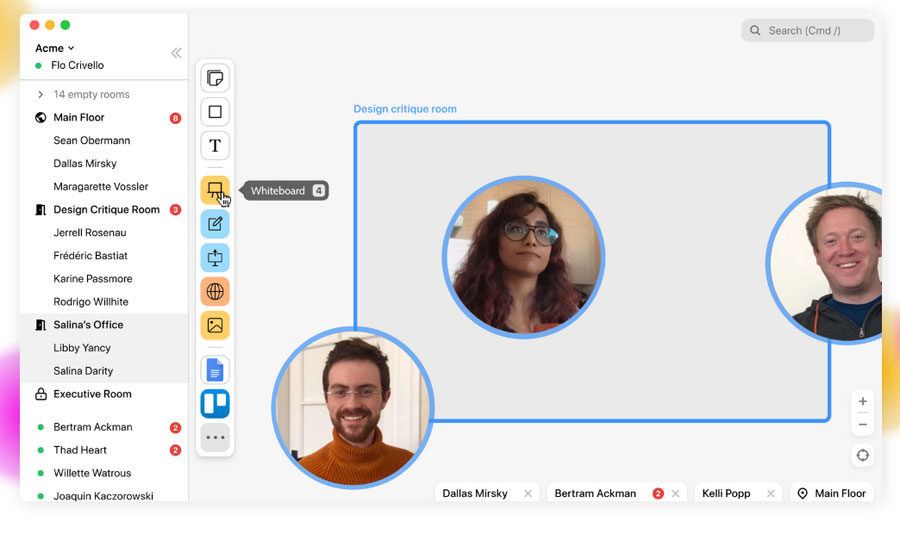 Huddle allows remote teams to keep all tools in one place. It combines the features available in Trello and Google Docs and enables people to meet, discuss, and plan the projects remotely, but with the feeling that the team is in the office.
Here is what the software offers:
tools for brainstorming;
possibility to create rooms for specific projects, one on ones, team meetings, or for personal use in a private mode;
high-quality screen sharing including multiple screen sharing mode;
possibility to join the app from any browser or via a macOS app;
bringing new participants into a meeting in one click;
high level of security.
Clients
The software is currently running in private Beta; clients can leave their emails and get access to the collaborative app.
Team
The company's team works remotely and has no headquarters. However, new employees need to coincide in the timezone with the rest of the group (USA, Latin America, Canada)
Benefits the company provides for its employees include:
Competitive salary;
Health and dental insurance;
Company equity;
Fun projects to work on.
Contacts
0 Review
Rate This Company
( No reviews yet )