Something About Company
The company's headquarters are located in San Francisco, California. Opensense creates an all-in-one email signature marketing and management platform.
The company started in 2013 when its founders tried to answer a few simple questions: why managing an email signature was so hard for big companies and if the email signature was a usable and effective media channel.
In 2014 the first office in San Francisco was opened. The company crew satrted to create an advanced corporate email transformation platform that would let businesses manage signatures effortllessly.
Services and Products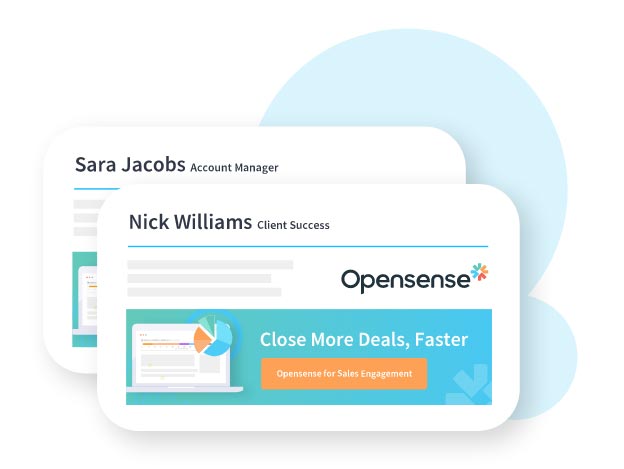 The Opensense platform features include:
Possiblity to use it on any device and email client without additional plug-ins.
Compatibility with Office365, GSuite, Salesforce, Mac, Windows, iOS, Android
An easy to use HTML signature canvas and design services
Fast onboarding that takes less than a day and a superb support
A coherent integration with leading CRM marketing automation platforms such as Salesforce, Marketo, HubSpot, and more.
The company offers solutions in content marketing, event marketing, account-based marketing, GDPR compliance, Sales enablement.
Clients
The company keeps growing and serves more than 100 000 Cloud Mailboxes, processes over 20 0000 000 emails per month, and has clients in 128 countries.
Among Opensense customers are such companies as Salesforce, Mulesoft, Outreach, Qualtrics, Continuum, National Association of Realtors, EDF renewables, Adobe, and many more.
Team
The company's core values are:
All members of the team are expected to take initiative to help clients reach their goals.
Everybody is expected to take responsibility for their actions and projects.
All discussions should be followed by corresponding actions.
The Customer-first approach needs to be exercised.
Benefits the company provides for its employees include:
Possibility to work remotely full-time
Helpful and supportive team
Possibilities to learn and develop professionally
Regular company treats
Personal motivation
Generous commissions
Contacts
Opensense Headquarters
855 Brannan St, San Francisco, California 94103, US
US East Coast
1900 Reston Metro Plaza, #640
Reston, Virginia 20190
1-866-673-6736
0 Review
Rate This Company
( No reviews yet )
This company has no active jobs