Something About Company
Orum was founded in 2018 and its headquarters are located in San Francisco, California.
The Orum platform helps to provide the sales teams with the automated outbound calling. Orum helps sales representatives to get into the conversation quickly by detecting voicemails, filtering bad numbers, and navigating phone directories.
Orum's PowerDialer enables businesses to dial hands-free. Orum software allows plugging directly with Salesforce, Outreach, and SalesLoft. With the help of Orum's feature that lets call several numbers simultaneously, companies can increase the number of their potential clients.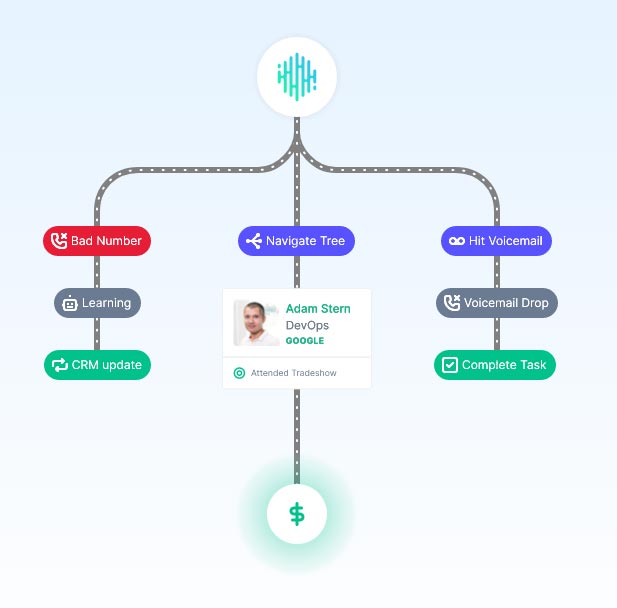 Services
Features the platform provides:
Painless CRM integration
Possibility to connect to Salesforce, Salesloft, Outreach.
Automatically identify and remove bad numbers from your list.
Data quality breakdown that helps to make better decisions in the future.
Automated high-quality, multi-line dialing.
In-browser, high-fidelity VOIP dialing.
Dialing up to 10 lines in parallel.
AI-powered voice transcription, phone tree navigation, and voicemail detection.
Automated voicemails filtering.
Automated call tasks completion.
Possibility to pick up call tasks, contact details, and outreach history.
Access to call completion and history.
Calls search function (by type and disposition).
Possibility to listen to any call a rep is having for the quality care team.
Sharing the best calls recordings with newcomers and teammates.
Detailed call analytics
Visual performance over time.
Full disposition detail – no answer, busy, answered, etc.
Performance tracking: connects meetings, dials, and more.
All the above helps to save time and money on excuding voicemales, and increse the calls conversions by making more calls to real people.
Team
Company's values are:
Excellence. Orum expects team members to do their best quality work, and meet the highest standards in the product, sales process, customer success, and people management.
Accountability. In a fully remote work environment, accountability/ownership must be taken seriously. At Orum, words always mean deeds.
Stewardship. It is important that all members of the team plan responsibly planning and manage resources seriously, everybody's aim is to reduce waste that harms the company/employees.
No Jerks policy. It is not enough to be a high-performing person, one also needs to make the conscious choice to build a work environment that is inclusive.
Honesty. Lying to customers, teammates, or partners is not acceptable under any conditions.
Power of logic. All good ideas, need to be supported by logic and data. The discussions around them should be tactful and respectful as only under these circumstances the best ideas win.
Benefits the company provides for its employees include:
Health insurance, including dental and vision.
Competitive salary and compensation package.
Possibility to work remotely.
Regular company retreats and offsites.
Stipend for work-related equipment.
Contacts
San Francisco,
California 94122, US
https://orumhq.com/
0 Review
Rate This Company
( No reviews yet )