Something About Company
The company was founded in 2017. The company's headquarters are located in San Francisco, CA. It creates software that helps companies make informed decisions fast by means of effective SQL management.
To prevent collaboration breaks PopSQL makes it possible for the teams to manage SQL databases without rewriting each other's queries or switching between the apps to visualize the data. PopSQL allows eliminating copy/pasting and helps to create beautiful SQL and share the results with anyone in the team.
PopSQL is backed by such investors as Gradient Ventures, YCombinator, Funders Club.

Product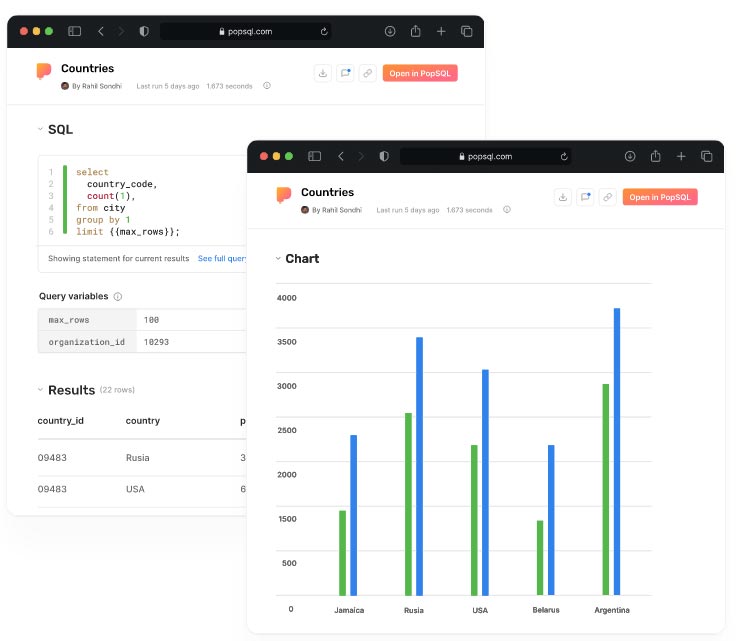 PopSQL software allows teams to:
Manage important queries, organize queries into folders, and create their own libraries. Share insights and queries without additional apps.
Share SQL statements and charts with the help of a presentation link.
Arrange queries by different parameters, such as metric, feature, role, and anything the team chooses. Nest folders to keep it even tidier.
Share a deep link with other members of the team. Share a browser link to query results, whether people have the app or not. See the SQL, the raw results from a specific run, and any visualizations.
Apply flexible permissions. Queries can be visible to anyone who has the link or can be private. You can give permission to edit or to view a query.
Save money and time. Teammates can share links to queries easily and promptly. While companies can save money on the cloud data warehouse.
Create an environment for each department — for the engineering team, marketing, support, etc.
Clients
Thousands of teams from all over the world use PopSQL for writing their SQL together. Among them are Intersect Labs, Instacart, Redfin, ClearBit, DoorDash, Shipt, Redfin, and Optimizely.
Team
PopSQL has a distributed team that is scattered around North and South America.
The benefits the company provides for its employees include:
Possibility to choose working hours and schedule and keep work-life balance.
Medical insurance, including dental, vision, and life insurance for employees and their families.
Unlimited vacation time.
Only necessary meetings that are productive and engaging and not wasting anyone's time.
Being a part of a dedicated team that produces a high-quality product.
Responsibility. Everyone in the team is responsible for their own project or task.
Contacts
San Francisco, CA 94105, US
0 Review
Rate This Company
( No reviews yet )
This company has no active jobs