Something About Company
Founded in 2014 with headquarters in Jacksonville, FL, Breezy HR is a digital design and software company making the process of recruitment as simple and light as ocean morning breeze. The services provided aim at optimization of personnel hiring excluding manual labor from this sphere no matter how numerous the staff is.
The hiring process obtains its productivity boost with the unique, visual approach to pipeline management. A plain interface ensures any new worker is going to be up and running in just a few minutes.
Among the company's happy customers you can find L'OREAL, Dodge, Dollar flight club etc. IThe software is already empowering the hiring processes of over 6 000 companies.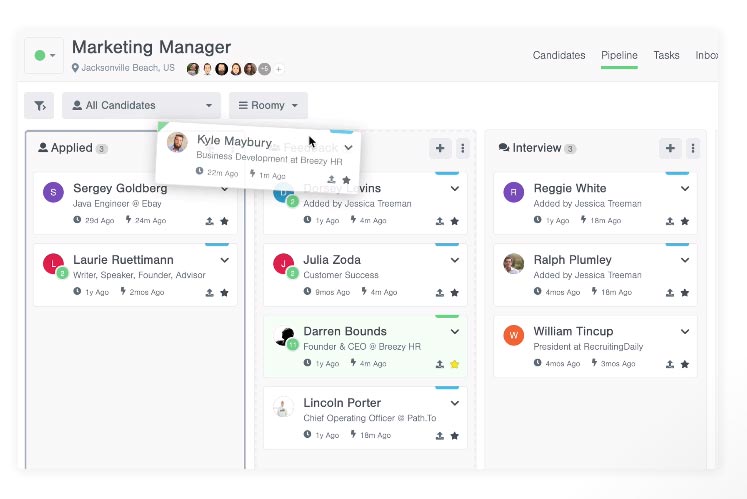 Services
Breezy HR empowers its customers to step up their hiring game and make more informed hiring decisions with the following tools:
Reporting & Analytics
Candidate Management
Email, SMS & Scheduling
Advertise Jobs
Source Candidates
Career Portal
Team Collaboration
Products
The company's product Hello Messenger Engage allows communication right from the career pages.
Chrome Extension helps to source candidates directly from LinkedIn, AngelList, Dribbble, Xing, GitHub and others;
Scorecarding system and Interview Guides provides objective handling everyone's input on a candidate.
Integrated one-way video questions and live video interviews allow to estimate such vital qualifications as the second language knowledge or salesmanship.
iOS and Android apps provide the real-time conversations flow, inform the employees about important events, and keep everyone on the same page.
0 Review
Rate This Company
( No reviews yet )