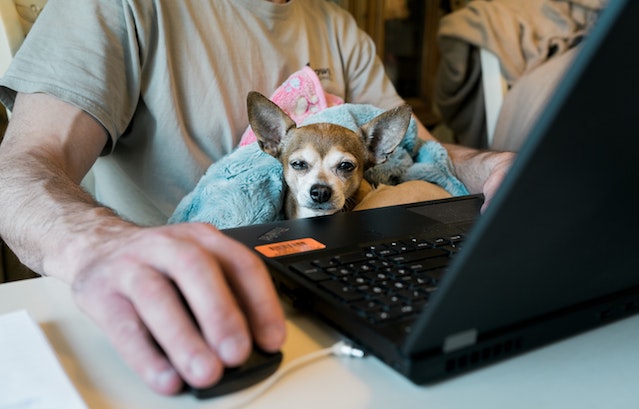 2020 made us all review and rearrange the ways we live, have fun, and work. Before the arrival of COVID-19 and a massive lockdown, there were already 7 million people working remotely in the U.S., which is 3.4 percent of the country's population.
43% of the USA employees already were working remotely, at least some of the time, according to Gallup's most recent State of the American Workplace. Over the last five years, the number of remote employees has grown by 44%, and in spring 2020 it has dramatically increased.
To keep the work going, companies, enterprises, and startups had to close their offices and shift to working remotely. The world will hardly be the same again and obviously, we need to adapt to the new realities where one does not need to leave their home to make the living. Having this in mind we have selected 10 most promising and best paying remote jobs. These jobs are offering up to $100 000 per year and more. Read on to learn what professions are worth investing your time and money. Find out how to search for the best remote jobs on LinkedIn and what popular job boards to use.
Senior iOS Developer
If you have an extensive skill set and experience in iOS development, you can opt for the position of a senior iOS developer.
Your responsibilities will include:

creating and maintaining user-friendly apps for iOS;
debugging and improving created apps;
keeping track of Apple's newest mobile operating system;
offering technical assistance to customers once the application has been launched to the market;
understanding sales, marketing, and design processes;
creating, maintaining, and inspiring a team of developers;
mentoring and training the team.
The most important skills for this position are programming and technical ones. However, senior iOS developers need to have leadership skills, be efficient in prioritizing and time-management. Senior iOS developers often do not manage others directly, but they are someone who says: this is where we're going.
Salary
According to PayScale senior iOS developer salaries range from $68k to $120k, the payouts depend on the location, company size, and candidates' experience.
Pay by experience level for iOS developers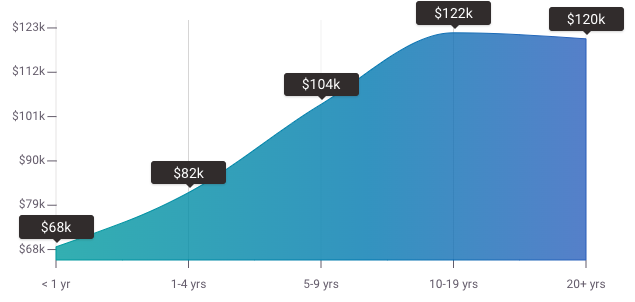 Senior Business Analyst
A job of a senior business analyst can suit those who are good at analyzing vast amounts of data and making complex decisions based on this analysis. Senior business analyst tasks depend on the sphere and the company they work for.
Generally, their responsibilities are:

identifying an organization's strengths and weaknesses and suggesting areas where they can improve;
collecting data through interviews, surveys, web and database searches as well as other methods;
developing specifications and system design details for organizations;
identifying trends, opportunities, and dangers for various businesses
cooperating with various teams to identify key information gaps and plan to provide that information;
improving project schedules and deadlines;
applying project standards, managing resources in accordance with project schedules.
A senior business analyst should have technical skills as well as problem-solving, leadership, team management, and business operation skills. Good verbal communication skills are essential. As they will help deliver your ideas unambiguously and ask sharp questions for getting crucial information from stakeholders.
Salary
According to PayScale senior business analyst salaries range from $71k to $97k, the payouts depend on the location, company size, and candidates' experience.
Pay by experience level for senior business analysts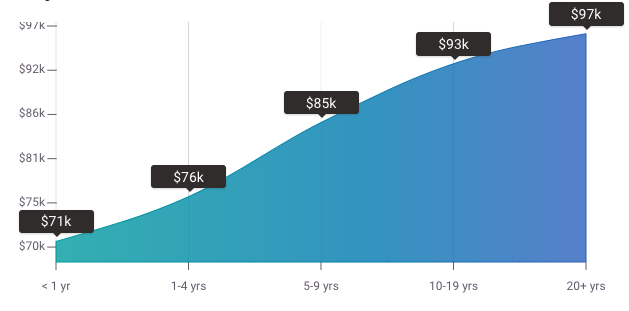 Business Development Manager
A business development manager position is a perfect fit for great communicators and business-minded people.
Business development managers' responsibilities include:

finding new possibilities for expanding business;
improving and developing relationships with partners and customers;
improving profitability through careful strategic planning and positioning in the appropriate markets;
strategic planning — setting SMART objectives to develop and improve the business;
training team members and arranging external training for them;
keeping abreast of coming changes of the market;
attending events crucial for the business sphere, seminars, and conferences.
To build a successful career as a business development manager one needs to have excellent verbal and written communication skills, as well as building new contacts skills. Taking initiative and making prompt and well-thought decisions is a must as well as organizational and networking skills. A good business development manager needs to have from basic to advanced IT skills including the use of spreadsheets.
Salary
According to PayScale business development manager salaries range from $51k to $93k per year, the payouts depend on the location, company size, and candidates' experience.
Pay by experience level for business development managers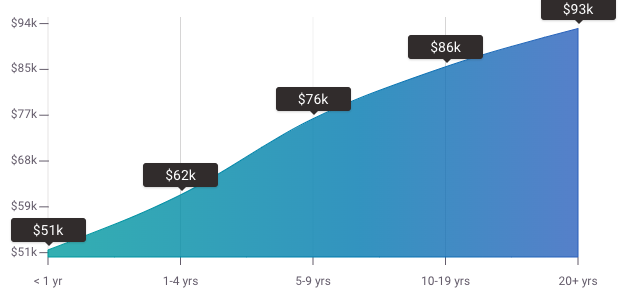 Cloud Architect
Cloud architects are in charge of the company's cloud computing system. They work on cloud application designs and systems required to manage cloud storage. Cloud architects' responsibilities include:

developing cloud systems;
working in cooperation with IT security to monitor the company's cloud privacy;
transferring applications in bulk into the cloud;
finding and implementing the top cloud architecture solutions to meet the company's strategic needs;
evaluating existing cloud applications, hardware, and software.
The skills required to get a decent cloud architect job are as follows: coding skills, database management, knowledge of cloud services and technologies, multi-cloud environment and data integration, business management, and data manipulation.
Salary
According to PayScale cloud architects' salaries range from $81k to $145k per year, the payouts depend on the location, company size, and candidates' experience.
Pay by experience level for cloud architects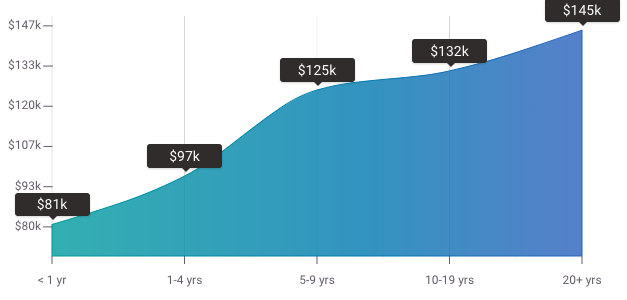 Cyber Security Analyst
This job will suit those who have experience in using computers and security software and enjoy finding new ways of solving complicated problems.
Cyber security analysts' responsibilities can include:

planning security measures to protect an organization from security breaches and attacks;
identify vulnerabilities, testing new software to help protect the company's data;
simulating attacks to identify possible vulnerabilities;
investigating security breaches and other security incidents;
implementing and maintaining cybersecurity policies and procedures.
Cyber security analysts are usually integrated into IT department teams and work a full-time schedule. The skills required for a cybersecurity analyst are technical aptitude, attention to detail, problem-solving skills, deep understanding of hacking, strong communication skills.
Salary
According to PayScale business development managers' salaries range from $62k to $111k per year, the payouts depend on the location, company size, and candidates' experience.
Pay by experience level for cyber security analysts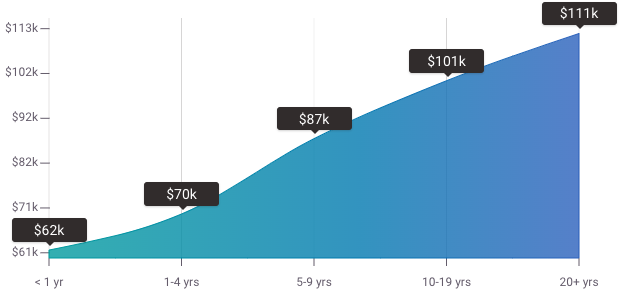 Frontend Developer
Another promising job and well-paid job is a frontend developer. A frontend developer creates visual elements of the interface that users interact with. Responsibilities of a frontend developer include:

creating user-friendly web-pages with the help of various programming languages;
improving company's website interface and maintaining it;
collaborating with backend developers and other members of the team;
designing high-quality prototypes;
identifying problems in design and eliminating them;
providing the design is consistent and corresponds to the guidelines;
collecting feedback from users, analyzing it and implementing changes if necessary;
improving one's qualification: attending training and seminars.
Frontend developers usually work in cooperation with the backend developers' team who are responsible for server-side application logic and integration of the work frontend developers do. Thus they need to be great team players to succeed in their role. Apart from this, it's great if you are a critical thinker and have problem-solving skills. Good time management and communication skills won't hurt either.
Salary
According to PayScale frontend developers' salaries range from $59k to $93k per year, the payouts depend on the location, company size, and candidates' experience.
Pay by experience level for frontend developers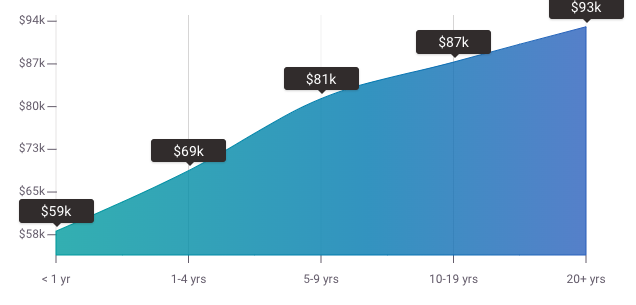 Marketing Director
If you have a degree in marketing or can boast of extensive marketing experience, then you can look for a job as a marketing director. In current situations, many companies offer remote positions.
Marketing manager responsibilities usually include:

creating and implementing a marketing strategy, based on the company's objectives;
coordinating marketing activities and policies, cooperating with advertising and promotion managers;
hiring, firing, training, and doing performance evaluations of marketing and sales staff;
preparing income and expense marketing budgets;
initiating and performing market research studies and analyzing their findings;
working in coordination with legal staff to resolve copyright infringement and royalty sharing issues;
negotiating contracts with contractors, vendors, and distributors;
participating in promotional activities and trade shows, working with developers, advertisers, and production managers, to market products and services;
advising on local, national, and international factors affecting the market;
conducting economic and commercial surveys to identify and expand potential markets for products and services.
To become a successful candidate for this role one needs to have such skills as creativity, independent thinking, strong writing and storytelling skills, as well as management and leadership qualities.
Salary
According to PayScale marketing directors' salaries range from $45k to $109k, the payouts depend on the location, company size, and candidates' experience.
Pay by experience level for marketing directors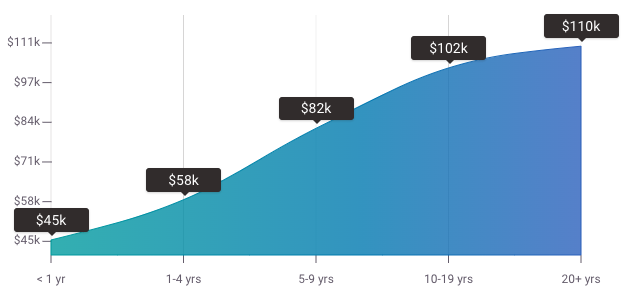 Public Relations (PR) Director
Public relations directors are responsible for managing a company's image. They provide that company brand content is positive, consistent, and well-timed. A director may focus on arranging interviews, managing relations with media, handling emergency communications, Public relations directors usually work full-time, but they can perform their duties remotely.
PR director's responsibilities may include:

setting goals for the PR team, following up their results, and monitor team members' performance;
increasing brand presence on such channels as social media, web, TV;
maintaining relations with influencers;
tracking media coverage;
organizing brand-building events;
managing sensitive issues and maintaining the company's good reputation.
Organizational, communication, project management skills are essential to get a PR manager's role. One also needs to be good at public speaking and all types of written communication.
Salary
According to PayScale PR directors' salaries range from $55k to $97k, the payouts depend on the location, company size, and candidates' experience.
Pay by experience level for PR managers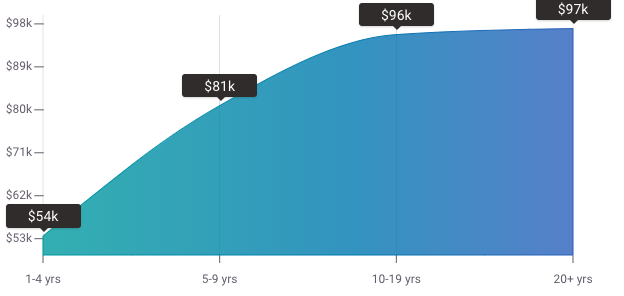 Product Designer
If you have an established career in product design, then you can opt for a remote job as a product designer. You'll need a high degree of technical knowledge, creativity, and a passion for designing and improving the usability of everyday items.
Product designer responsibilities usually include:

meeting with clients to establish the design brief, including concept, performance and production criteria;
working on ideas as part of a team or developing design concepts using computer-aided design (CAD), being mindful of the client's budget;
taking part in specialist or multidisciplinary team meetings;
sketching initial ideas;
identifying the suitability and availability of materials;
producing detailed, drawings and specifications or, more likely, using dedicated computer software (CAD) to produce design specifications, including parts lists and costings;
making samples or working models by hand or using computerized prototyping equipment;
testing the concepts using modeling or physical models;
researching materials, processes or market requirements;
cooperating with engineers and other departments, including marketing, to discuss and negotiate appropriate production processes, costs, and commercial issues;
Salary
According to PayScale product designers' salaries range from $72k to $94k, the payouts depend on the location, company size, and candidates' experience.
Pay by experience level for product designers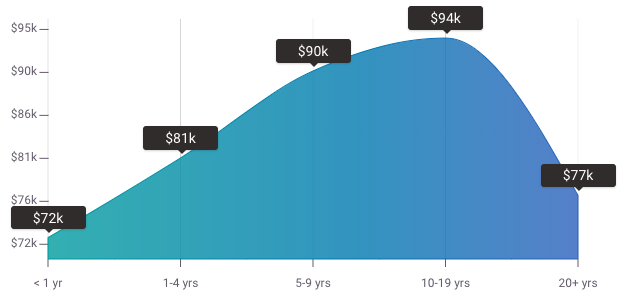 Technical Support Manager
As many of the technical support specialists work remotely from various parts of the globe, a technical support manager can manage the team remotely as well. They provide that the company's customers are satisfied with the services the support team provides. They also ensure the team's performance is stably high and all the members feel motivated in their job.
Technical support manager's responsibilities usually include:

coordinating a team of tech support specialists/help desk technicians;
creating routines that optimize the work of tech support team;
prioritizing IT-related problems as they come in to Help Desk and escalate when necessary;
analyzing and reviewing the team performance;
making quick decisions in case of emergency to provide customers problems are timely solved;
following up with customers to gauge their satisfaction with problem resolution;
identifying tech support problem areas (i.e., negative trends) and, if warranted, implementing corrective actions;
providing ongoing training for tech support staff; advise tech support staff on career planning; maintaining and analyze training records.
For this position, one needs to be well-prepared technically and should have strong leadership traits. As in their job they will constantly come across technical problems, support managers need to have an ability to troubleshoot them and to be able to come up with solutions to a wide range of technical service issues.
Salary
According to PayScale technical support managers' salaries range from $54k to $93k, the payouts depend on the location, company size, and candidates' experience.
Pay by experience level for tech support managers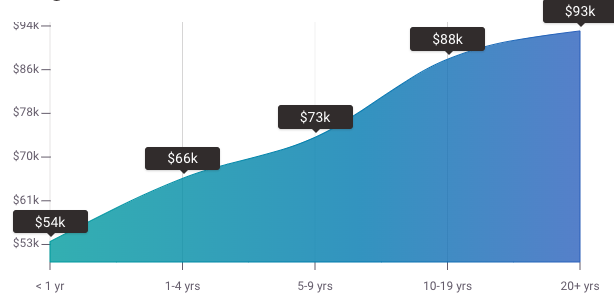 Where to find a high paying remote job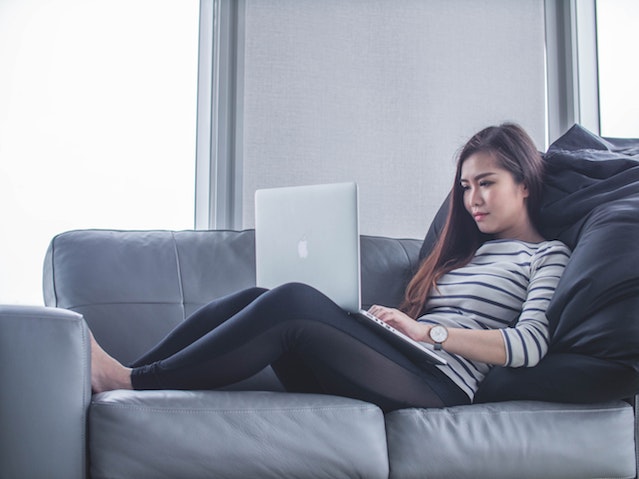 To find job openings online, you can use various job sites: job boards, job search engines, or even social media that specialize in professional connections. The best job boards and job search engine sites have search tools that are quick and easy to use. They allow you to search based on the type of job you're looking for, your location, company name, and other criteria. You can also specify if you are looking for a freelance, remote, in-house, full-time, or part-time position. FarFarJob.com is one of the popular job boards that comprise openings from different IT and design companies and offers jobs in different locations, remote positions included.
Apart from job boards and job search engine sites, you can search for remote jobs on LinkedIn. It's almost like Facebook, but only for your career. LinkedIn can help you to establish professional network connections and find a remote job fitting your professional interests. Here is an algorithm on how to search for remote jobs on the LinkedIn social network.

Change your privacy settings. It will signal recruiters and hiring managers that you are open and actively looking for work. To do this, go to your LinkedIn profile and click your avatar icon at the top of the page.

Scroll down to Settings and privacy and click on privacy option.

Change the options you see to your desired preferences, select the Job seeking preferences > Let recruiters know you are open for opportunities. Move the toggle into an enabled position.

On the same page click Update career interest and proceed to this page, here you can type a note to a recruiter, give details on your status — if you are actively applying or casually looking. On this page, you can really tailor your profile to the positions that you are looking for.

Fully optimize your profile. Click your avatar icon > View profile. Make sure you have a professional-looking photo, you need to have a catchy specific industry headline and then you need to have a well-written summary.
Establish connections. The more connections you have the more career opportunities may open for you. Start by connecting with people you know personally and then move on to people you haven't met in person but you have something in common with.

LinkedIn will provide some options for you in the section People you may know. Here you can connect with as many people as you can, including your coworkers, alumni. However, when you are connecting with them, make sure your message is customized.

Use the "Jobs" feature. At the top of the LinkedIn page, you will notice the Jobs tab. Select it and see the Jobs you may be interested in. The recommendations are based on your profile, so make sure it is as tailored as possible and reflects your current interests.

Scroll down and if you see any positions you would like to apply for, go ahead and apply. At the bottom of the page, you will see companies you may also be interested in.

Besides, you can search for jobs using the search bar on the Jobs page, just type in the name of the job, add "remotely", and see the results. You can save the jobs you liked to your favorites and address them later or immediately apply for the job. As soon as you have applied on the right side of the screen you'll see related positions, which are worth checking out.

Do the follow-up. Keep track of the positions you have applied for and then follow up with a hiring manager or the recruiter to let them know of your interest. Some positions will have this person listed and some won't.

If so, you will just need to dig a bit deeper. Usually, it is pretty simple — all you need to do is use the search bar. Type in "hiring manager" and add the name of the company you are looking for. After you have sent a follow-up message, connect with the company.

To produce a positive impression, you can go through the company's posts and like or even comment on them. It will put you on the radar of the company and will let the company know you are interested in them.